Welcome to the
Cabazon Water District's

official website.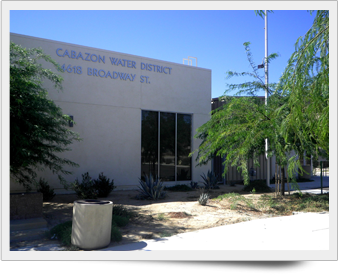 The District's Board has given the General Manager directions to develop an informative and entertaining portal on the World Wide Web. The community's only form of a local government goal is not to only provide safe and reliable drinking water, but to achieve transparency with District finances and business matters allowed by law.

Your water district's Board member and Management hope you will find the website enriching, enjoyable, and easy to navigate.

As we build the website, soon you will be able to access your water account; most records that fall under the Public Records Act will be available on-line, including, but not limited to meeting agenda, minutes, finances, and contracts.

Other topics that will be included in the site will be water conservation ideas, water production, water emergencies, water quality, and a kid's page.
In The News
A Special Board Meeting is scheduled for Monday, October 24, 2016, at 4:00 pm.
Our next FAC Board Meeting is scheduled to be held on Tuesday, November 15th at 5:00 pm.

The Regular Board Meeting is scheduled for Tuesday, November 15th, at 6:00 pm.
Water Rate Study Workshop coming soon. Time and date to be determined. Please check back here.
New water restrictions
The new state mandated guidelines for lowering your water usage. Desert landscaping incentives.
Read More
Meet Us

14618 Broadway Street, Cabazon, CA 92230
View My Water Account Online
Access current account information and bill history. Manage multiple properties in one place.
Click below to login to your account or to register a new account
Customer Access
In case of emergencies,
call immediately:
951.849.4442